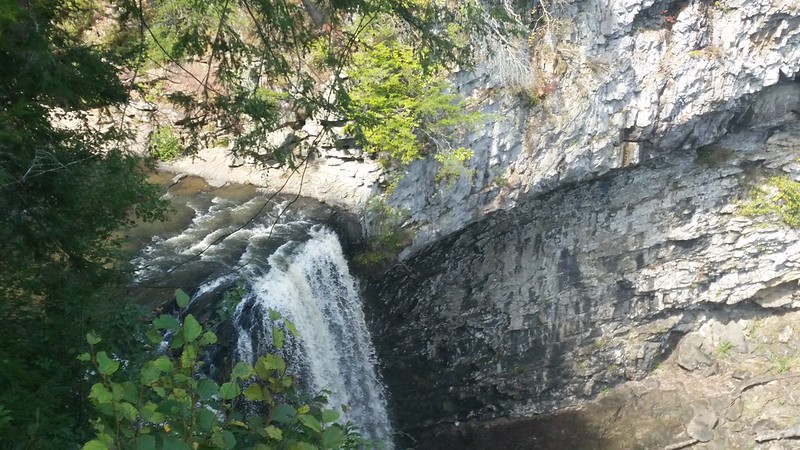 The second trip in the Sandpiper had us much further from home and crossing state lines into Tennessee. Shortly after we were married twenty-six years ago, we went camping at Fall Creek Falls with another couple. We set up our tents in the rain and went to sleep. It rained all night and all morning. The forecast had said the rain would stop during the night but then changed. We gave up on the weekend, packed up, and left seeing none of the park. It took us a while to go back!
This trip was much better. We had nice weather all week. We hiked to Cane Creek Falls and the top of Fall Creek Falls. Next time we would like to hike down to the base of Fall Creek Falls and do some of the other trails.
We also took a quick drive to Cumberland Caverns. This private cavern has guided tours through an extensive system of caves. While touristy, it was nice. The typical tour has a lot of walking but they have places to wait if you cannot do many stairs.
Our site was on loop A, site 22. This site has a long pull-thru asphalt pad. It has plenty of room and is close to the playground and field. Unfortunately, this site is on a steep slope which makes leveling the rig difficult. We had blocks to drive up onto and could get level, but only barely. With careful positioning of the rig, I could get the slides open on both sides and steps on the pad. The bunk slide cleared the trees by only four inches. The awning could not extend at all.
They set the site up with the picnic table and fire ring on the back side of the rig. Having to go around the trailer to get to the table or fire became exhausting, especially when grilling, setting the table, and cleanup. I would not choose this site again if I had a choice. Site 25 was a little closer to the field and playground and had a better layout with plenty of room for our rig. Most of the sites in loop A had plenty of room and were reasonably level, though few will accommodate a large rig like our Sandpiper.
We live near Atlanta and do not see many of the stars at night. I bought a telescope in 2007 designed to keep ambient light from interfering as much so I could stargaze at all. Fall Creek Falls has little ambient light from cities so the sky is dark and stars are very visible. Being near the field allowed easy viewing of the sky, and the Milky Way showed clearly. I wish I had the telescope and next time I will be sure to bring it.
Related Links:
Fall Creek Falls State Park
Cumberland Caverns